Portfolio
Double Horse
UX/UI • Web
Good food, for all. The thought inspired our Founder, respected Late M. O. John - a visionary, a humanitarian and a businessman whose ideas were way of ahead of times. The Founder General Secretary of Kerala Vyapara Vyavasayi Ekopnana Samithi, the largest organization of business owners in Kerala and the President of Chamber of Commerce, Thrissur, his entrepreneurial skills made him a leader of his times, and his brand –the leader for more than 50 years.
Manjilas, the mother brand of Double Horse, was founded in the year 1959, as a rice milling company selling high-quality rice grains. The brand, on the strength of its commitment to deliver only the best to its customers have witnessed a phenomenal growth over the years. It revolutionized the food sector in Kerala becoming the first ISO 9001:2000 certified Rice Mill in the state and the first food brand to introduce sortex rice, stoneless rice and colour grading.
Inspired by the support of its customers and foreseeing the potential for traditional food that's made easy to suit today's busy, modern lifestyle, Manjilas Double Horse started introducing products- from rice powders- breakfast mixes to instant mixes, wheat products, curry powders and condiments made using 'Perfect Blend technology', naturally preserved pickles, health foods, ready-to-cook & ready-to-eat products, traditional preserves, coconut products and more; and is dedicatedly developing new and innovative product ranges, to keep up with its promise to deliver good food and in turn, inculcate a healthy eating habit.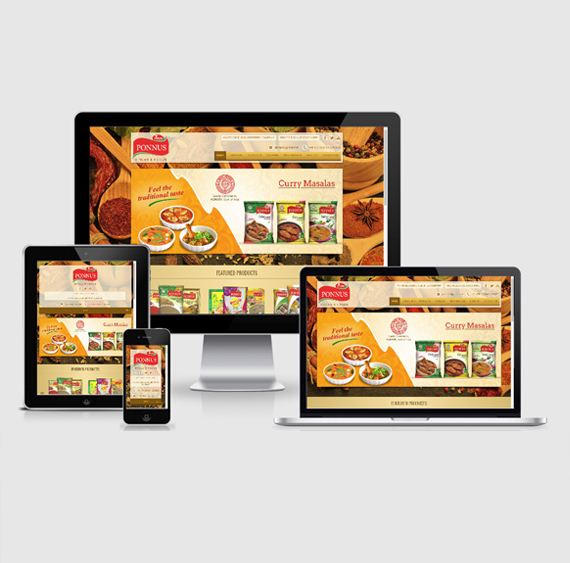 Ponnus Food Products
UX/UI • Web
Ponnu Food Products, SSI unit started in August, 1999, is an Agmark approved company having our own manufacturing, grading, packing and marketing set up for various Food Products, such as Spices, Dry Fruits, Curry Powders, Rice Products, Wheat products, Instant foods and other Edible products. Some of our technologies are from the CENTRAL FOOD & TECHNOLOGY RESEARCH INSTITUTE, MYSORE. Besides, the combination of the curry powder and allied products are developed by our own R&D wing. There is ample scope for the demand growth of these products as these are everyday household consumer items.